Wondering which game to play with your friends when gets bored?
Here's a list of best android games created by TipsLake that are available freely on Google Play Store.
1. Asphalt 8: Airborne
Download Link
In Asphalt 8, you'll race in some of the hottest, most high-performance dream machines ever created, from cars to bikes, as you take them on a global tour of speed. From the blazing Nevada Desert to the tight turns of Tokyo, you'll find a world of challenge, excitement and arcade fun on your road to the top!
2. Word Chums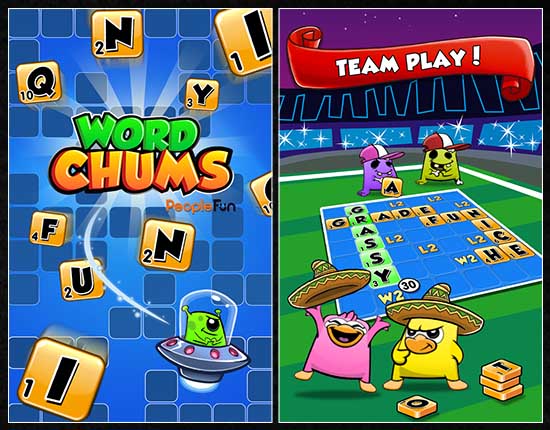 Download Link
Word Chums is the highest rated word puzzle game,
voted 4.8 stars by Android users.
Play free with friends or solo against the computer
.
3. Real Basketball
Real Basketball is an addictive game designed for basketball fans, which it offers single player or multiplayer options, as well as many fun game modes where you can show off your basketball skills!
4. GT Racing 2: The Real Car Exp
An ultimate car racing game by Game Loft, GT Racing 2 is a real car racing adventurous game. With fantastic 3D graphics and sound effects, GT Racing 2 is one of the best car racing games in the market. It offers various features of customization and multiplayer support which makes the game even more interesting.
5. Dungeon Hunter 5
Join forces with millions of Bounty Hunters online for the most intense hack-and-slash adventure!
Fate has thrust the land into an age of chaos that ushered in the rise of darkness. Now, the people must fend for themselves against bandits, monsters and other terrors. However, for mercenaries and bounty hunters, this is an age of unbridled opportunity and prosperity, for justice always demands a high price, and their business has never been better!
6. Blitz Brigade
You ready for the gun show? Because Blitz Brigade is packing major heat in this over-the-top (and over budget) online FPS war fest!
Put on your game face as one of seven highly skilled classes and team up with other players to blast your enemies into the ground… Then dig 'em up so you can blast 'em again!
7

. P

UBG (PlayerUnknown's Battlegrounds)
Download Link
PlayerUnknown's Battlegrounds is an online multiplayer battle royale game developed and published by PUBG Corporation, a subsidiary of South Korean video game company Bluehole.
8. Re-volt 2: Multi player
★★The legend of RC Racing game, "RE-VOLT Classic", back to Android★★
Race radio-controlled cars through the neighborhood and beyond in the classic arcade racer RE-VOLT! Fast paced, exciting driving, with explosive weapons and unique track designs deliver a larger than life racing experience like no other.
9. New Words with Friends
THE WORLD'S MOST POPULAR MOBILE WORD GAME is better and more clever than ever with all new game modes built for the word player in all of us. Beautifully and intelligently redesigned, Words With Friends 2 is teeming with more ways to challenge your friends and your brain than ever before.
10. QuizUp
Fun, addictive, challenging, online trivia, that has the best of two worlds.
11. Raging Thunder 2
Raging Thunder 2 will take you through abandoned temples, tropical beaches, snow-covered mountains,
the Great Wall and a range of other breathtaking vistas the world over!
12. Pocket Legends
Download Link
Play the world's first, best free to play 3D mobile MMO! After eight years of adventure and over 20 million downloads, Spacetime Studios' smash hit continues to thrive and grow!
13. Clash Of Clans
Join millions of players worldwide as you build your village, raise a clan, and compete in epic Clan Wars!
Mustachioed Barbarians, fire wielding Wizards, and other unique troops are waiting for you! Enter the world of Clash!
14. NinJump Dash
Climb ninja, climb! In this fast-paced ninja running game, your goal is to climb as high as you can while avoiding evil squirrels, dive-bombing birds, enemy ninjas, throwing stars, exploding bombs & more! Effortlessly scale the side of buildings with ninja agility. Tap to jump from one wall to the other, slashing enemies in your way. Hit three matching enemies in a row for a bonus power-up boost. Grab shields for protection. Watch out for obstacles & ledges. Stay alive!
15. Muffin Knight

Fertilize the forest with the unicorn, cover the sky with black holes, flood the world with candy, but just get the muffins back!
Muffin Knight is an action-packed platformer with stunning visuals and a myriad of fairytale characters, each with their own unique abilities, which gain strength as you advance.